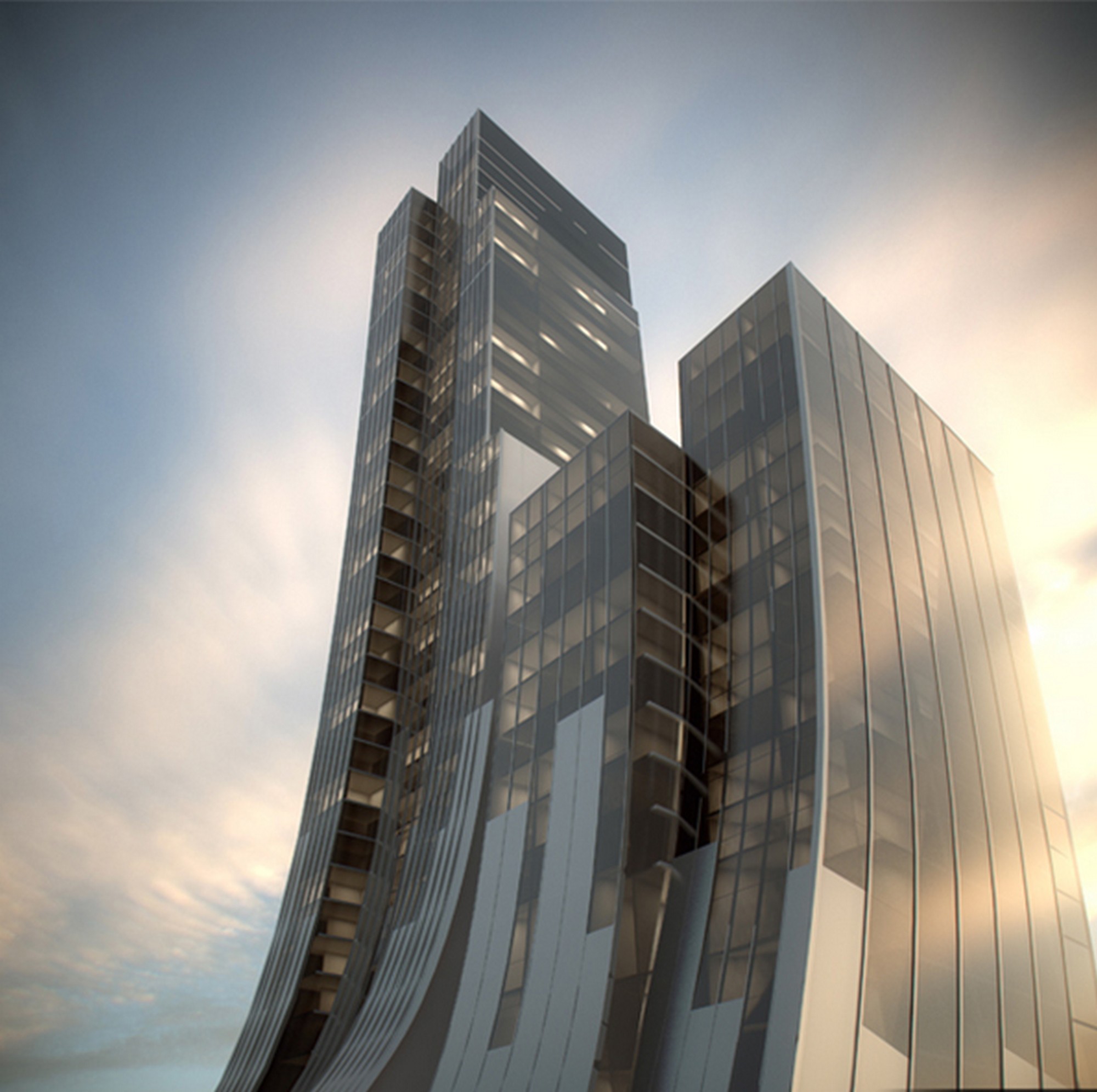 THE LEAF
China Guangzhou 2014
The intervention has as purpose the integration of existing commercial buildings, with four new towers, which are part of a more extensive program identified in steps 2 and 3 of the complex .The new buildings located at the extremes of commercial, include two towers for residential use, 13 meters apart from each other, both with a maximum height of 100 m, on the other building, a hotel tower with a height of 100 meters and an office with a maximum height of 230 meters. The first 5 levels of the two heads of the project, with the floor height of 6 meters, are used for commercial/exhibition (podium Phase 2 and Phase 3) and occupy a total area of ​​80000 square meters.
The built up area is located in the commercial above existing buildings, this new solution has been increased in height by 2 levels (podium Phase 1), finding inside areas for theaters, galleries, recreation areas and exhibitions.
The design has followed two main criteria: firstly, it was designed to give visual and functional continuity to the three destinations; in some cases, the solution differs for formal-aesthetic reasons from the excessive aspirations of achievable volumes compared to the available surfaces. Secondly, the design focuses on the relationship with its surroundings, the buildings below, traffic, orientation and intended use. The building aims to become a territorial landmark, therefore it can not prescind from eco-sustainability and respect for the environment.
The design solution includes a specific covering characterized by curvilinear levels overlapping at different heights that illuminate the spaces below and create a suggestive dynamism at the top. The towers are generated from the commercial area covering's ribs; these lines form the fronts that are characterized by stained glass windows, placed at different angles and designed to create a wrinkled surface that contrasts with the green area below.
PROGRAM

Masterplan, Residential & Hotel

CREDITS

Guido Bondielli Architects, Guido Giacomo Bondielli, Gaetano Nardini, Nicola Andreozzi, Francesco Casile, Giovanni Cuciniello, Lorenzo Carotenuto, Pier Marco Filippi, Stefano Bozzarelli

STATUS

Competition Entry
Related project