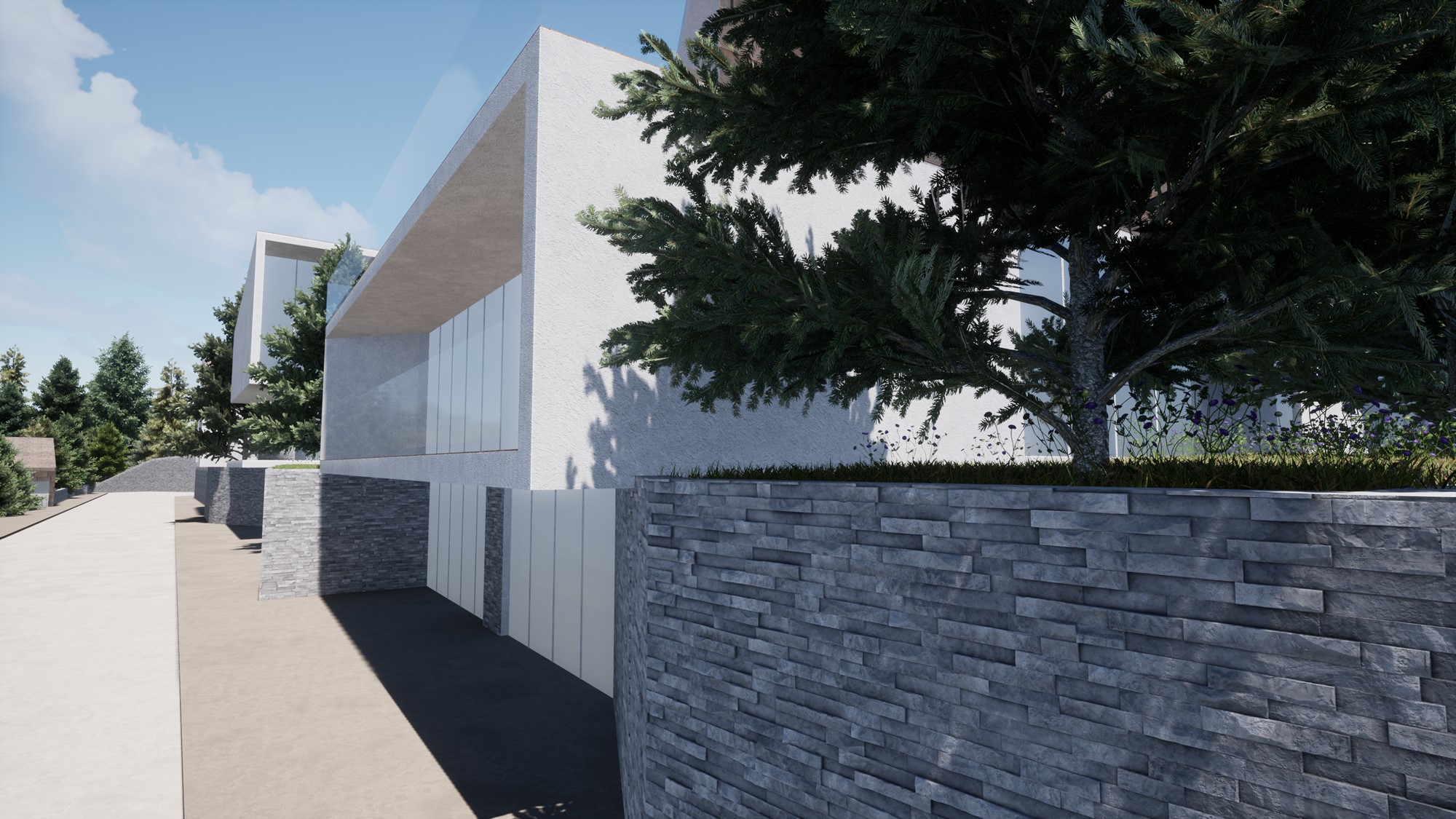 20 VILLAS FOR 20 ARTISTS
France Le Chambon-sur-Lignon, Lion 2020
The project stems from the need to rationally locate the 20 housing units so that each building is independent and with its own lot of surrounding land, but which, at the same time, are part of the same architectural complex.
The design composition draws inspiration from several aspects:
- The morphology of the terrain
- The architectural composition of the neighboring houses
- The use of local materials
- The continuity between inside and outside
- Dynamic and non-static buildings
The above conditions have conveyed the project in two main aspects: on the one hand creating homes like telescopes that would allow the view of landscape towards the valley and, on the other, creating simple living buildings reflecting the local houses. The building aggregate is completed by the presence of a multifunctional building, as a result of a renovation, which has been changed in the roof to give greater uniformity as a whole with the villas.
All the villas are connected by internal double driveway and pedestrian paths that allow easy access. The streets are designed to be protected upstream by containment bastions covered in stone, which, at the street level, welcome buildings with destinations for garages and ateliers for artists.
This situation allows to hide the buildings at ground floor which develop along an angled wall in plan to create fluid and diversified perspective views.
The shape of the villas is a reinterpretation of the existing houses which, as we have said, have a rectangular plan with two or three levels and pitched roofs.
The housing complex consists of three types of villas with an usable area of 300, 500 and 800 square meters. On the ground floor, the villas have a space for garages and ateliers where a stairwell allows connection to the upper floors. On the first floor there is the living area and on the second floor the sleeping area. All the houses have a more pronounced view towards the valley and are positioned as telescopes designed to admire the suggestive surrounding landscape, allowing a strong relationship between inside and outside, between the built and nature. Especially in the living area the internal spaces are open-spaces, that is, large open spaces flexible in use and characterized by important openings so as not to hide the external view in order to create a whole between inside and outside, as if the exterior was an integral part of the house itself.
For the external cladding of the houses will be used local materials such as stone and wood, all to recreate, with new local materials, the environments of the studio houses for the artists.

CREDITS

Guido Bondielli Architects, Guido Giacomo Bondielli, Stefano Bozzarelli, Marco Lombardini, Francesco Rappelli, Micaela Podestà, Sara Ceragioli, Luca Pasqualotti, Filippo Prodi, Matteo Sanzeni, Yang Liu

PROGRAM

Residential

STATUS

In Progress