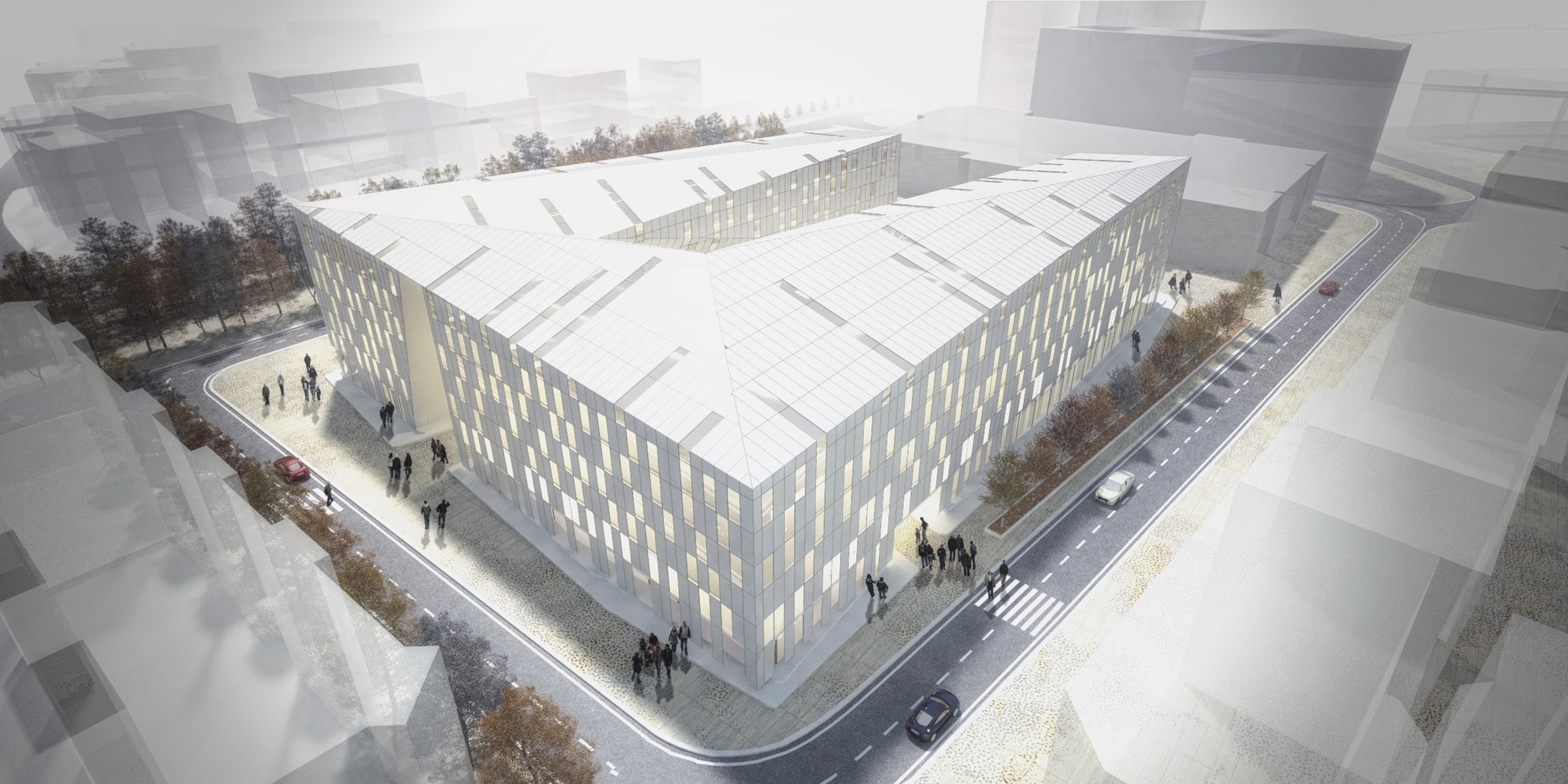 CRYSTAL HOUSING
Germany Hamburg 2015
Our main challenge was to create a mixed building able to combine public and private in a single structure, taking into account the different requirements of the customers (families, students and tourists).
The design's outline is inspired by the study on the different, local kinds of facilities and, by creating a volumetry which is the revisitation of the surrounding architecture, results in a solution with an inner courtyard and a canopy with sloping tiles. Designing an open building complex was a priority, so we avoided transforming the indoor space in an unused courtyard by making it into the heart of social life, where fun and sport activities could take place and children could play. The building complex is 6 floors high; the shopping centre is on the ground floor and, being it a place made for social gathering, it fits with the frontal green area. The ground floor's volume is characterized by various passages that make the building's permeability possible, because the goal was to create a solution that would not become an artificial barrier but that could facilitate the people's flow. In the upper floors there are various dislocated residential units in which we identify 7 kinds of apartments designed to accommodate customers with different needs. A guest house for backpackers is located In an extreme side of the building, added to meet the need for temporary housing and to strengthen the community spirit. In order to facilitate integration we have designed private areas combined with communal areas such as the laundry room, fitness rooms, green areas, etc. This study gives shape to a dynamic building with different purposes that helps socialization and the local meltin-pot.
The parking area is going to be mainly underground.

STATUS

Competition Entry

PROGRAM

Social Housing & Commercial

CREDITS

Guido Bondielli Architects, Guido Giacomo Bondielli, Francesco Casile, Giovanni Cuciniello, Vittoria Spizzichino, Stefano Bozzarelli

RENDER

Stefano Trovato